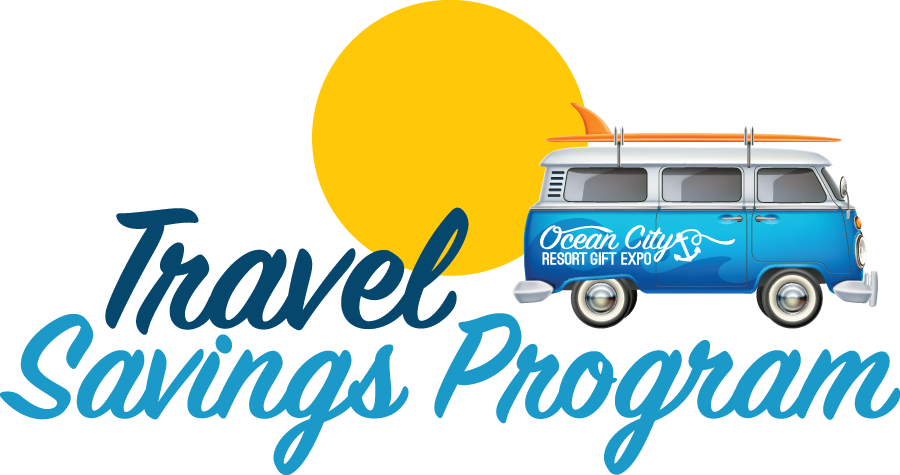 Thank You For Apply for the Travel Savings Program!
We have received your application to participate in the Ocean City Resort Gift Expo Travel Savings Program. Just a reminder, this program is valid only for qualified buyers attending from New Jersey, Virginia and first-time attendees from Delaware.

Through this program, you can qualify for one free hotel night (room & tax at select hotels only) at a designated hotel (if booked by Sept, 29) and a complimentary round trip ferry fare/Bay Bridge toll valid during the dates of the show.
Next Steps:
If you have not done so already, make sure you are registered to attend.

You may book your free night at one of the designated hotels through Connections Housing, using this link* . Hotels booked outside of this link will not be reimbursed. Reservations must be made by September 29th. If you cancel within three days of arrival or fail to check-in, the penalty will be the standard contracted group rate plus tax.

*Please do not share this link. If you have colleagues that require a hotel room, they must apply to the program.

Hold on to your receipts! You must check in at registration on-site to confirm your name is on the list to receive your free hotel night (room & tax only) and to pick up your reimbursement form for the ferry/Bay Bridge toll.**

**Please note - you must complete a W9 and the necessary forms in full and submit by the due date to receive your reimbursement.